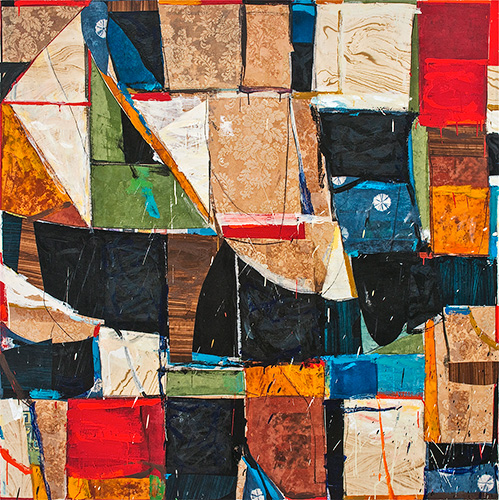 Brad Ellis Old Man Repertoire, 2014, Encaustic, oil stick, and collage on canvas 60" x 60"
BRAD ELLIS is a Dallas-based artist whose focus is on abstract painting. Throughout his career he has continually experimented with imagery from tightly rendered, systematic patterns to loosely composed, expressionistic compositions. He has distinguished himself by embracing the ancient medium of encaustic which is hot wax painting and is a process by which heated bees wax is mixed with pigments and applied to board or canvas and then fused to the surface with a heat source. The pure physicality of the paint combined with various collage elements render distinct textures and surface treatments that energize his abstract imagery with movement and excitement.
Brad earned his BFA from the University of Tulsa and he is represented by several galleries including the William Havu Gallery in Denver, Craighead Green Gallery in Dallas, the Russell Collection in Austin and Sandler Hudson Gallery in Atlanta. His paintings are exhibited in many prominent private and corporate collections throughout the country and is included in the U. S. State Department's Art In Embassies Program, where his work is displayed in the Ambassador's residence in Kampala, Uganda. As well, his paintings are featured in two recent books, Texas Abstract, Modern + Contemporary, published by Fresco Books and Encaustic Art In The Twenty-First Century, published by Schiffer.